A Gloucester and Boston MA Area Whale Watching Tour
Cape Ann Whale Watch is the Boston and Gloucester MA area's leader in educational whale watching tours in Massachusetts. Our vessel, the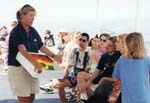 Hurricane II, is the largest and fastest whale watching vessel in Massachusetts, north of Boston. Located just one hour north of Boston Harbor, our cruises last 3 to 4 hours and we guarantee our sightings. We are just 20 minutes from Salem MA. Come aboard the whale watch vessel Hurricane II out of Gloucester Ma. for a thrill of a lifetime. Let our naturalists and whale educators thrill you and your family about the whales of Stellwagen Bank located just 12 miles off the coast of Gloucester Ma. Not only will you receive an expert narrative interpretation of all the whale activity encountered you'll also receive one on one interaction with our e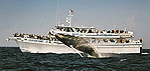 ducators. They will demonstrate our hands on teaching tools which will broaden ones appreciation of the whales and ocean around them. If your goal is to learn something about the whales off the coast of Massachusetts your best bet is to watch whales with Cape Ann Whale Watch. Our whale watch general last 3 to 4 hours, When you leave the Hurricane II, the impact of observing the world's largest living creatures in their natural habitat will be with you always.
Please join us! - Capt. Jim Douglass
Exclusive Amenities at CAWW
Guaranteed Free and Easy Parking! Just steps from the boat: No parking meters.
Closest Whale Watch to Route 128N! Easiest to find, located just 1/2 mile off Rt. 128N.
Bring Your Own Picnic Lunch! Or you can enjoy hot or cold food and beverage from our galley.
Great For Children! They are our future, let our educators fascinate and thrill them with our on-board teaching tools.
THE #1 Boston ma area whale watch tour sailing from gloucester ma

On 5-18, 4-6 Humpbacks just 7 miles off Gloucester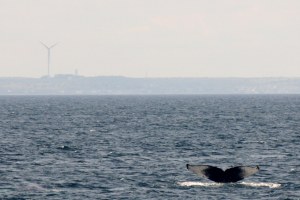 CAPE ANN WHALE WATCH - 415 MAIN ST., GLOUCESTER, MA - 800-877-5110 - HOME OF THE HURRICANE II,
THE LARGEST, FASTEST & MOST POPULAR WHALE WATCHING VESSEL NORTH OF BOSTON MA!