OUR COVID19 PROTOCOLS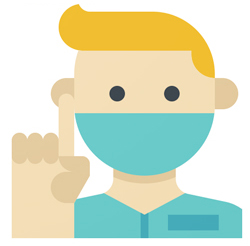 1. We have installed hand sanitizing dispensers throughout our entire property, including the ticket office, queuing area & the boat.

2. We have put social distancing marks on the floor of our ticket office/gift shop, as well as the queuing area and we will limit the number of people in both areas.

3. Masks will be required to be worn in the ticket office/gift shop, and the queuing area when boarding the boat. Masks may be removed once you are seated on the boat with your group but must be worn while walking around.
4. We have installed plexiglass barriers in both our ticket office/gift shop and snack bar on the boat.

5. We have developed two ticket check in sites, one inside our gift shop and one outside the office to cut down on any lines that may form.
6. Our mates will be constantly cleaning and disinfecting the boat before, during and after each trip with a disinfectant called Fullsan.
7. At this point, we plan on carrying 25% of out total capacity, which isabout 75 people. On a boat with over 400 feet of rail space, that numberwill be minimal. People will be able to socially distance themselves between the top and lower decks!
We believe we are well prepared for the start of our season and are confident that all our passengers will feel safe when whale watching with us this summer/fall!