Frequently asked questions
Since we began whale watching over 30 years ago, we have been pleased to answer questions from our customers. To provide some helpful information to you before your trip, here are some of the questions most frequently asked, and the answers.

---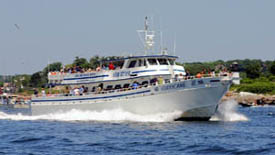 What are the ticket prices? Click here for our ticket pricing
(In times of high prices, diesel fuel surcharges may be added to the listed prices)

>
How large is the boat? The Hurricane II is the largest, fastest and most stable whale watch boat north of Boston.It is unique among whale watch vessels, featuring: The Hurricane ll is 115 feet long, making it the largest whale watch boat north of Boston
400 feet of rail side viewing room, 500 sq.ft. of bow space area. (a favorite area for whale watchers). The boat is extra wide, so the ride is smooth and more comfortable, and may help with seasickness. There is a large, heated indoor cabin with soft table seating for 85, and four restrooms instead of the usual one or two.The entire vessel is modern, bright, clean and impressive. There is a a full galley offering snacks, soft drinks, beer and film.

Do you have a naturalist onboard? Yes, our naturalists have over 30 years experience with the humpbacks off the coast of Massachusetts. Our education program is one of the few to be written up as a curriculum and directly based on learning theory and experiential education.All of our naturalists and interns are trained in this program and will provide you with the most current information about these amazing animals.

How far out do you go? We go as far as we need to in order to see whales—generally 10 to 25 miles away from Gloucester.

How long is the trip? The length of the trip depends on where the whales are located. We spend at least an hour with whales, so if the whales are close to Gloucester, the trip lasts three hours. If the whales are farther away, the trips can be five hours. Our educators are available the whole time for questions!

How cold is it going to be? The temperature is usually 10 to 15 degrees colder out on the ocean. Even when it is hot on land, you often need a sweatshirt or light jacket on the water. Throw one in a bag—better safe than sorry.

When is the best time to see the whales? Anytime from early May through October we can have great sightings. Luckily, Gloucester is located between two feeding grounds, so we can get to wherever the whales are. Morning or afternoon does not seem to make much difference. Mornings are generally less crowded though. Generally, the weather is more consistently nice in July, August and September.

Do we sell food and drinks onboard? Yes we have a full galley. Here is a sample menu of what we currently have aboard. We offer both breakfast and lunch items.
LUNCH: Sandwiches $3.00 (tuna/ chicken salad) Clam Chowder $3.50 Hot Dogs $3.00 w/cheese $3.50 Deep Dish Pizza for one $3.50 Ramen Noodles $2.00
LUNCH SPECIAL: Clam Chowder, Dog or Sandwich Chips and a Soda $7.00
DRINKS: Soda, lemonade, Iced Tea $1.25 Hot Coffee, Cocoa, Tea or Spiced Cider $1.50 Bottled Spring Water $2.50 Beer (Bud and Bud lite) $2.75
SNACKS: Chips or Cookies $0.75 Candy $1.00 Tortilla Chips with $2.50 Melted cheese (Nachos) Hot Soft Pretzels $2.00 Microwave popcorn $2.50

Do the whales come out in the rain? Believe it or not, yes, the whales do come out in the rain. Luckily, because they are air breathing mammals, they have to come to the surface.