Cape Ann Whale Watch accepts interns for its Field Research and Environmental Education Internship. Based in Gloucester, Ma, our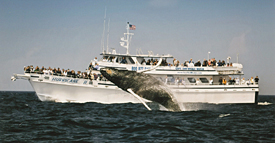 whale watch boat takes between 150 and 250 passengers a day on whale watches in and around the Stellwagen Bank National Marine Sanctuary. We are a Planet Whale ambassador: one of 12 whale and dolphin watching companies from around the world committed to work in partnership in 2013 to develop a more responsible and sustainable whale and dolphin watching industry. Specializing in education, we strive to educate passengers about whales and the marine environment. It is our hope to inspire a sense of respect and personal responsibility for the wellbeing of the planet.

Passengers aboard the Hurricane II are an extremely diverse group of people ranging from elementary school children to families from across the globe. Up to four interns and one naturalist on every trip help accomplish our goal of educating people about whales and fostering a stronger appreciation and respect for whales and the ocean environment. With this newfound respect and appreciation, the team of educators also hopes to positively influence how the passengers regard the environment and to increase their role in helping to preserve it. The whales and the environment have a better chance of surviving if we can change the attitudes and behaviors of our passengers.

In order to accomplish this goal, our interns circulate the boat with hands-on teaching tools to educate the public about whales and their environment. To give an idea of what we use: There are samples of whale baleen and teeth for passengers to touch. A 3-D model of Stellwagen Bank allows people to better understand why whales migrate to the coast of Massachusetts. Our whale tail identification board allows passengers to become scientists and test their skills at matching whale tails. Once the actual whale watching begins, the naturalist provides educational interpretive commentary while the interns collect data on whale behavior and identification for our research project. The interns are also onboard to answer questions on a wide variety of topics, on everything from whale behavior to whale conservation. Finally, the interns are expected to help with the general functioning of the whale watching vessel.

Interns not only have responsibilities aboard the Hurricane II, but they are also expected to participate in activities off the boat. The naturalists, interns, and volunteers meet once a week. The meetings provide a forum for discussion about whales, current issues, and the whale watch program. Also, interns are expected to help enter data, photo-identify whales, and do a project that together we will decide on.

Interns work four to five days on the boat. It might seem like a lot, but in reality, you are spending your summer aboard a boat, on the Atlantic Ocean, watching whales. What can be better than that? Past interns have received degrees in biology, psychology, education, French, history, philosophy, etc. You don't need to be Biology major to apply. We are looking for students who will make the most of the amazing opportunities this internship provides.

This internship is geared for college students and recent college graduates. However, anyone who is interested in helping Cape Ann Whale Watch and the educators/researchers or in learning about whales is encouraged to apply. We are looking for individuals who are passionate about whales and the ocean environment. Applicants for this position should feel comfortable with public speaking, teaching in small groups, and working with school age children.

To Apply: send a resume, cover letter stating why you are interested in this internship, two written letters of recommendation, and an unofficial transcript to:
Cape Ann Whale Watch
PO BOX 345
Gloucester, Ma 01930
Email to: whalescapeann@gmail.com.
We are doing rolling admissions this year—early application is strongly encouraged. Applications will be accepted until March 15. Once a completed application is received, we will set up an interview. (In-person interviews are highly recommended, but we will make accommodations if it is unreasonable.) Applicants will then be notified soon after. The whale watching season begins in early May and it runs through October. During this time, we ask that people can devote at least 10 weeks to the internship.
This is an unpaid internship, and housing is not provided, but we will work with all the interns to find something suitable.
Email to: whalescapeann@gmail.com. with questions.