The Stellwagen Bank National Marine Sanctuary (SBNMS) is located just SE of Gloucester, Ma. In 2007, USA Today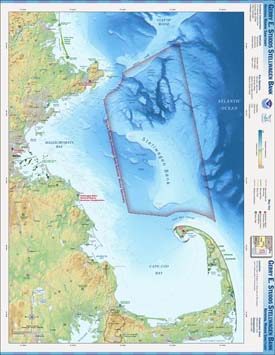 named it one of "10 great places to catch a whale of a sighting!" Because of the bottom topography of Stellwagen Bank, this area is a smorgasbord for large and small cetaceans alike. Each spring, summer, and fall, any number of humpbacks, fins, minkes, and Atlantic white-sided dolphins can be found feeding in these waters.

Gloucester, just 45 minutes north of Boston, is the best place to depart from to see these animals. SBNMS comprises both Stellwagen Bank, south of Gloucester, and the southern part of Jeffreys Ledge, located north of Gloucester. Both areas are feeding grounds and both within 12 miles from Gloucester. Sometimes whales are found on Stellwagen Bank and sometimes they are found on Jeffreys Ledge. Our tours also have the ability to easily go to both places, wherever there are more whales. This is what makes Gloucester such a great port to leave from.

We hope you join us to see these amazing animals in their natural habitat!


PLANET WHALE - educating globally


Planet Whale is the global community that will change the way we view whales and dolphins forever. By forming partnerships between

passionate individuals, businesses and organizations who work with and for marine mammals, we will achieve more to protect and defend our oceans than ever before. Together we are the global voice for whales and dolphins.
Cape Ann Whale Watch is proud to be the only whale watch in the United States to be a Planet Whale Ambassador for 2013. As part of Planet Whale's initiative to raise the standards of whale watching worldwide, in 2012, twelve whale and dolphin watching companies from around the world committed to work in partnership to assist with developing a more responsible and sustainable whale and dolphin watching industry in the lead up to the first global Whale and Dolphin Watch Operators Conference on 15th and 16th October in Brighton, Uk.
Cape Ann Whale Watch joined this partnership because we believe that seeing these animals in their natural habitat as well as learning about them is what can lead to change in how we interact with the natural world. Joining the partnership links us with other like-minded organizations creating an even larger potential for changing lives and protecting these animals!

2013 Ambassadors: Because we are a partnership, we encourage you to take a tour with our partners if you find yourself near where one of these companies operates. The partners offer a great variety of whale, dolphin and wildlife watch experiences, some similar to ours and some very different. However, we know for certain that what we all have in common is a commitment to and love of the animals we are watching, and huge enthusiasm for making our respective businesses as ethical as we can.


Stø, Norway - Unforgettable whale watching tours—combined with bird and seal safari! With us you will experience more of the incredible wildlife of Vesterålen. From the small, but lively fishing village of Stø, we set out to the sea on a combined whale, bird and seal watching adventure. Meet the largest of the toothed whales, the sperm whale, thousands of puffins and other seabirds, plus one of the largest seal colonies in the Vesterålen!



Massachusetts, USA - Cape Ann Whale Watch is the area leader in educational whale watching tours, having conducted whale watching trips from Gloucester, Massachusetts for over 34 years. Cape Ann Whale Watch is the only whale watch company in the Northeast to feature a comprehensive educational program completely integrated into the whale watch.



Puerto Plata, Dominican Republic - Welcome to Conscious Breath Adventures, specializing in live aboard cruises to the Sanctuary for the Marine Mammals of the Dominican Republic. Ethical Whale and Dolphin Watch Operator of the year 2012



Gibraltar, Spain - Take a cruise into the magical world of the Gibraltar dolphins with Dolphin Adventure. Cruise the bay of Gibraltar and watch in amazement as the dolphin's escort the boat, playing and swimming at your feet! Let us take you on a safari into the world of these enchanting animals. Gibraltar is famous, the world over, for its ever present dolphin population, with transient dolphins visiting the bay for food, shelter and to breed.



Ponta do Ouro, Mozambique, Africa - Welcome to Our Beautiful World of Swimming with Wild Dolphin. Dolphin Encountours was born in the December of 1994 and is the longest, most experienced wild dolphin swim operator along the African eastern sea-board. Our program is used as a data collection and educational platform that gives guests a special insight into the realm of the wild dolphin through a program that resonates with them as non-human persons; individuals that have their own unique personalities, are self-aware, conscious, cultural and social.



Reykjavík, Iceland - "Elding is far and away the best Whale-Watch operator in Reykjavík. Outstanding naturalist guides, very friendly and professional staff, comfortable and stable boats and marine biologists working on board... Brilliant!" says Mark Carwardine, one of the world's most celebrated whale and dolphin experts.



Gibraltar, Spain -The organization Firmm (foundation for information and research on marine mammals) is dedicated to the research and protection of whales and dolphins. Our locations serve as research stations for marine biologists and do also provide opportunities for everyone to learn about these fascinating marine mammals. We run whale watch trips and whale and dolphin observation courses between April and October.



Gairloch, Scotland - Welcome to Hebridean Whale Cruises. We operate whale watching and wildlife cruises from Gairloch, on Scotland's spectacular North West coast. We look out over the fringes of the Atlantic Ocean. On the horizon are the misty shapes of the Outer Hebrides. To the south we see the majestic peaks of the Isle of Skye. These glittering Hebridean waters are favored with an abundance of marine wildlife.



Cornwall, England - The coast of the very far west of Cornwall is not only stunningly beautiful, it is home to a fascinating and diverse range of marine wildlife. Joining us on Shearwater II will give you an experience not to be found anywhere else in this country – searching for wildlife aboard a unique catamaran powered by nature. Join us on an unforgettable ocean adventure.



Tarrifa, Spain - Turmares Tarifa is a company with 10 years experience in the maritime tourism and especially the "Whale Watching" in the Strait of Gibraltar . We have 3 boats of different sizes, 150, 60 and 10 passengers prepared to meet the specific demands of each group. We are a team of professionals of the sea, knowing the Strait, between those who are biologists who give technical explanations about the different species of cetaceans. Scientific research is a complementary business, taking the opportunity to sail in the Strait regularly to collect data of interest which are then studied and ultimately produce scientific papers presented at major conferences related to cetaceans.



Panama, Panama - Whale Watching Panama is the only dedicated whale watching tour company in all of Panama with expert biologist guides. We have a 99% success rate in the Pearl Islands with humpback whales and 90% success rate with dolphins. Our professional guides will help you to connect, communicate and interpret the behavior of the whales and dolphins you will encounter on your whale watching or dolphin tour.



West Cork, Ireland - Whale watching in Ireland and whale watching in West Cork in particular has now reached a high point for whale and dolphin watching enthusiasts the world over. The Irish government declared the coastal waters of Ireland a whale and dolphin sanctuary during the early 1990's. The first of its kind in Europe, this paved the way for whale watching in Ireland to become a prime activity for the many visitors to this country. Coastal waters off the southwest of Ireland are a summer feeding ground for a number of whale species and a year round home for several resident dolphin species including the harbor porpoise. Baleen whales commonly seen off the south coast include fin whales and minke whales.