What a very special day!!!
It's been a month since I have been on the water. When I did the dock talk, I thought we were going North, like we had every day the past few weeks I thought. Nope, we were headed South to Stellwagen to see a few humpbacks. We watched Owl and Lace for a few surfacings. HUGE whales–especially Lace. She has to be pregnant! Then eagle eye Nancy found a big splash in the distance, so we went over to it. Guess who? NILE!!!!  She continued to breach and flipper slap for a half hour. What a treat to get to see Nile today!!!!  For those who don't know, I am starting a new business doing school presentations. I had an inflatable life-size model of a humpback whale made that I am taking into schools to share with students. The whale I had made is Nile!!! Today was a great day!!!
Last one….Inflatable Nile!!!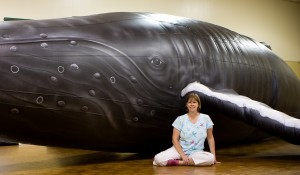 Check it out at www.thewhalemobile.com. Till next time…..
Cynde